Post by Emerald City on Jan 10, 2005 14:11:19 GMT -5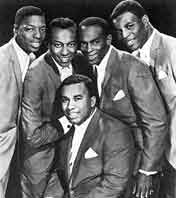 The Spinners were the greatest soul group of the early '70s, creating a body of work that defined the lush, seductive sound of Philly soul. Ironically, the band's roots lay in Detroit, where they formed as a doo wop group during the late '50s. Throughout the '60s, the Spinners tried to land a hit by adapting to the shifting fashions of R&B and pop. By the mid-'60s, they had signed with Motown Records, but the label never gave the group much consideration. "It's a Shame" became a hit in 1970, but the label continued to ignore the group, and dropped the band two years later.

Unsigned and featuring new lead singer Phillipe Wynne, the Spinners seemed destined to never break into the big leagues, but they managed to sign with Atlantic Records, where they began working with producer Thom Bell. With his assistance, the Spinners developed a distinctive sound, one that relied on Wynne's breathtaking falsetto and the group's intricate vocal harmonies.

Bell provided the group with an appropriately detailed production, creating a detailed web of horns, strings, backing vocals, and lightly funky rhythms. Between 1972 and 1977, the Spinners and Bell recorded a number of soul classics, including "I'll Be Around," "Could It Be I'm Fallin in Love," "Mighty Love," "Ghetto Child," "Then Came You," "Games People Play," and "The Rubberband Man." Wynne left in 1977 and the Spinners had hits for a few years after his departure, but the group will always be remembered for its classic mid-'70s work.

Originally, called the Domingoes, the Spinners formed when the quintet were high school students in the Detroit suburb of Ferndale in 1957. At the time, the group featured Bobbie Smith, Pervis Jackson, George W. Dixon, Billy Henderson, and Henry Fambrough. Four years later, they came to the attention of producer Harvey Fuqua, who began recording the group -- who were now called the Spinners -- for his Tri-Phi Records.

The band's first single, "That's What Girls Are Made For," became a Top Ten R&B hit upon its 1961 release and featured Smith on vocals. Following its release, Dixon was replaced by Edgar "Chico" Edwards. Over the next few years, the group released a series of failed singles, and when Tri-Phi was bought out by Motown in the mid-'60s, the Spinners became part of the larger company's roster. By that time, Edwards had been replaced by G.C. Cameron.